Please complete the form below to receive your free course guide and course updates by email.
A Friendly Reminder: A course guide will be emailed to you within 15 minutes. Can't find it? Kindly check your spam folder.
A world of opportunity awaits
Thousands of newspapers and magazines, fashion companies, advertising agencies, film and television production companies, boutique shops, corporate clients and private individuals rely on freelance stylists. And, with all the styling work that needs to be done, why not?
However, as you'll discover, the need for your styling skills doesn't end here. There is a range of other lucrative freelance and full-time work to be obtained including image consultancy, food styling, visual merchandising, personal shopping and colour consultancy. Remember, even the up-and-coming band needs the right look. And, somebody gets paid for providing it.
As you'll also discover, professional styling is a business that goes far beyond creating an image. By the time you complete this course, you will have an intimate knowledge of all aspects of professional styling – from identifying your client's needs and developing your ideas through to the important business side of marketing your professional skills and being paid for your efforts.
What's more, you'll be learning about the industry from the inside, receiving hundreds of tips and little insights from some of today's most successful stylists and fashion leaders. Remember, like yourself, every one of these professionals was once a complete beginner.

 
With 12 or 24 week course options, you set your own pace with distance learning.
This personal stylist course is self-paced and you may take as much time as you require to absorb course material and complete your assignments. During your course you will be instructed in all aspects of styling by a team of Australia's leading photo and fashion stylists, image consultants, fashion editors and writers, photographers, art directors and producers.
Each tutorial provides you with specialised knowledge and practical assignments about specific aspects of styling. At the same time, you are learning about the actual market place for your styling skills, how to go about creating functional and appealing style concepts, selling your services, together with every trick of the trade to ensure your success. From your first lessons, you are working with your tutor towards commencing your own freelance stylist's consultancy – and being paid for your efforts.
Learn online, at your own pace and become a professional photo, film, tv & personal stylist.
With flexible payment options and course guarantees, this course allows you to study with ease and peace of mind.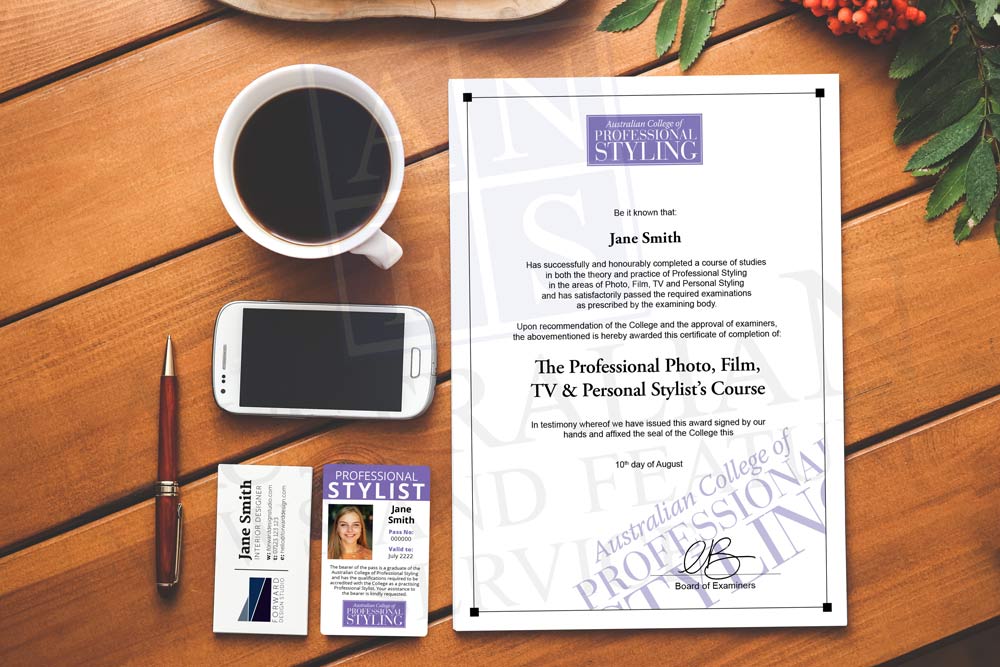 Claim your course guide